Nerds and Bronies may be aware of WeLoveFine, a most excellent purveyor of geeky t-shirts. It just so happens that they're hosting a contest for folks to design new Avengers t-shirts. I submitted three designs, and I'd really appreciate y'all helping me out by rating my submissions. (I'd be truly shameless and beg you to rate them highly, but that would just be crass, now, wouldn't it.
Loki's Playthings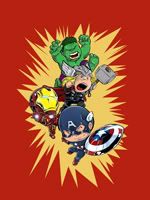 Li'l 'Vengers
Assembleable Avengers
Also, if you're tumblr folk, I've decided to be even more shameless. If you reblog my
"Please Rate My Stuff"
post over on tumblr, you'll have a chance to win a free inked and colored sketch (and the original inked piece as well). Reblog contest goes through the 19th, drawing result posted on the 20th.
Cheers!
-Truxi